Instructor: Angelene Huang, Raymond Mathis, JAIMIE M. RUSH, etc.

Requirement: Grade 4-7, class taught in English

Session: 10

Schedule: 1 class / Week, 10 weeks

Tuition can be fully refunded before the second class. After that, no refund.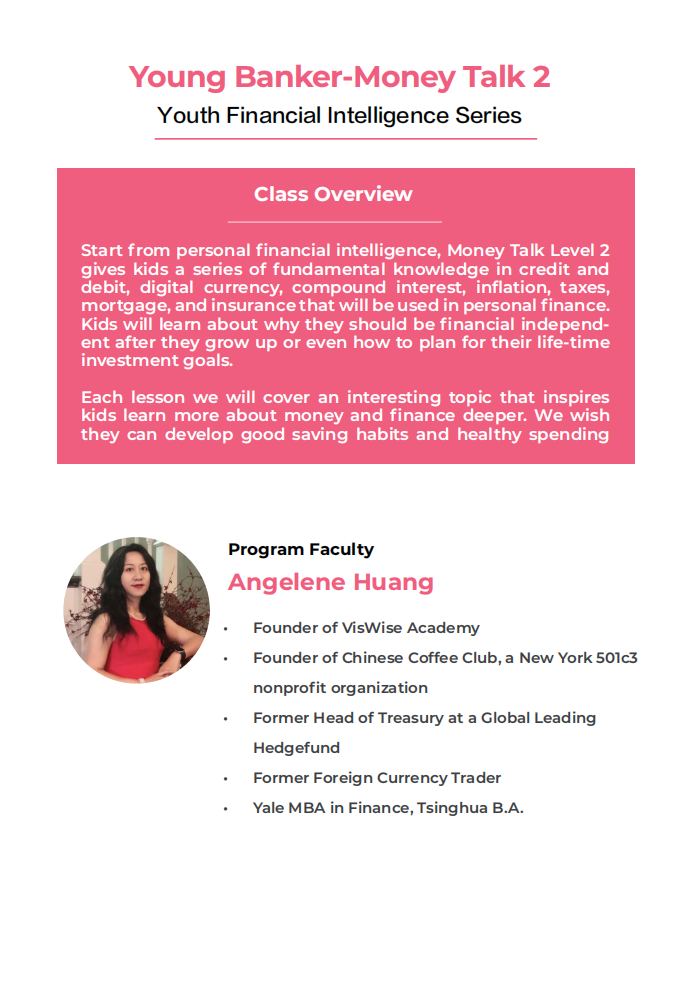 Angelene Huang
Angelene managed over 20 billion cash investment portfolio and treasury operation for 9 years for Two Sigma Investments, one of the largest global quantitative hedge funds based in New York. Prior to that, she was a senior analyst and forex trader at the treasury of IBM. Angelene holds an MBA degree from Yale School of Management, Master degrees in Computer Science and Civil Engineering, and a bachelor degree from Tsinghua University. She is also the founder of the Chinese Coffee Club, a non-profit registered in New York, providing professional talks and conferences for Chinese communities.
JAIMIE M. RUSH
Senior Level Executive and Certified Project Management Professional (PMP)
Successful Marketing Consultant for a diverse range of multi-million dollar initiatives including consumer products, financial, high education etc
Senior Director of Extended Learning in marketing and business development at the University of La Verne
Brigham Young University MBA
Mr. Raymond Mathis is a private equity manager with Tati NY, Inc., an operating company focused on the lodging and hospitality industry. Previously, Raymond was a Portfolio Manager for Spirit of America Investment Funds, a family of equity and fixed income mutual funds. At Spirit of America, he took over Real Estate Income and Growth Fund, in addition to the Large Cap Value Fund, and subsequently launched an Energy Fund and several fixed income funds.
Throughout his tenure, Mr. Mathis received many accolades, including being named "Leading Portfolio Manager" by NAREIT's "REIT Magazine" the largest publicly traded real estate industry group, "Best Performing Real Estate Fund" by Zacks Equity Research, and several "Category Kings" awards from The Wall Street Journal, including top performance for Stock Fund, Sector Fund, and Real Estate Fund categories.


Mr. Mathis began his career as an Analyst at Standard & Poor's, where he covered companies in the Consumer Discretionary, Financial, Real Estate, and Consumer Staples sectors. In addition to winning the "Best on the Street" award from The Wall Street Journal, he has appeared in print and on television with CNBC, Bloomberg, Wall Street Week, The Wall Street Journal, Financial Times, CNN, Business Week, BBC, USA Today, New York Times, Crain's, and the New York Post. Raymond received his MBA in finance from Louisiana State University (New Orleans). Before that, he earned a degree in music from Berklee College of Music, after which he moved to the French Quarter of New Orleans to play jazz for several years.
Learning Outcomes
Learn about credit, payment, interest rate and tax

Concept of price level, inflation, mortgage and insurance

Deeper understanding on earning, spending, saving and investing

Develop a conscious on personal finance and life-long investment
Enrolled user
description